VirtuaGirl – Sexy Desktop Software for Mac & PC.
Everybody loves technology, as it makes many things easier and and more accessible, and this includes virtual girls stripping, right on your desktop. While on the topic, that is what VirtuaGirl offers you. This means there is no need to go down to your local strip club, take out a bunch of money to get the women to come to you. All you need to do is download the software and you are good to go.
Why VirtuaGirl And Not A Real Strip Club
Many men love strippers, and many enjoy seeing their favorite dancer when they go a strip club, but how often can you actually go, because let's face it, you are probably busy and cannot go daily to your strip club of choice. Asides from that, when you go to a strip club, then there is certain etiquette you need to follow, such as paying a cover or buying a drink or two, or even buy a drink for a dancer who is performing you and things of that nature. Most clubs expect you to tip if you sit around the stage and the tip must be at least a dollar or two, and that is per song, per performer, and let's not forget to mention that different clubs have different rates. Not all clubs will also offer the same things too. When you take all of these things in consideration, then you can see how VirtuaGirl is beneficial. It is simple, easy and a cheap alternative.
What Do They Do
VirtuaGirl is free software, and you download it straight onto your desktop, and the software has quite a few benefits. Read the benefits below and then you will likely be convinced to download it right away.
1. More Than 1000 Women– Your favorite site may have around 20,30 or even 50 girls, but with VirtuaGirl, you have more than 1000 different girls to choose from. There is a website search engine on the site, which means you can find the type of girls you like the most. You can search for girls that meet certain criteria, such as hair color, model name, race, physical characteristics and more. You can choose from a few Virtua Girls, but there is an option that allows you to purchase access to even more girls. You can rest assure that you can find the perfect Virtua Girl, so download the software and have a look for yourself and find the perfect one today.
2. The Top Models Around– Sure you can find conventional women, but there are even prominent and well-known models, and this includes Stacy Silver, Little Caprice and Jana Cova to name just a few.
3. Various Scenarios– You will love the special arrangements of trios and duos, or you can even modify scenarios and choose a different background or even costumes.
4. HD and 3K Content– Nothing compares to VirtuaGirlhd, which will enhance your virtual strip show experience. Most of the content you will find within the software is HD, which means you will feel as if you are right there in front of them in person.
5. It's Updated Daily– The software is updated daily, which means that you will be shown 10 different demos every single day, and these demos will be brand new. What this also means is that you will be able to see your favorite strippers dancing to a brand new beat daily.
6. No Malware– Don't worry about malware, because this software is malware free, which cannot be said for many other software that you use for the desktop. The companies behind those software need to cover their costs, and they usually do this by malware, pop-ups or adware. The company makes money from these things, but rest assure that with this software, there is no malware, or even adware.
7. It's Trusted Software– VirtuaGirl has millions and millions of users around the world and they share their info, as well as talk about what they like and don't like via the forum on the site. You can browse the forum and learn more, but overall you will see many positive reviews about the software and the features.
8. It's Responsive– Many desktop features with other software tends to shut down, but not with VG. You will be able to create a sensual experience by teasing the dancers with the mouse. In other words, they respond to the movement of the mouse.
9. Adaptable– What this means is that you can download the software to most Windows and Mac systems. Other software developers usually have to make modifications to do this, so don't worry about that stuff with VG.
10. It's Free– That's right, it is free, but keep in mind that the free software version has limits on dances and movements, and if you want full-frontal nudity and bonus video, then you will need to pay. However, it is well-worth spending the money because you will love it.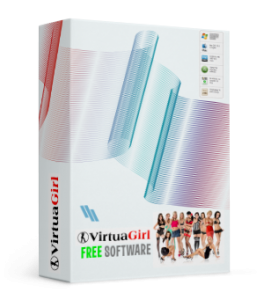 The above features should convince you to download the software so you can have access to your own strippers anytime you want. Also, feel free to uninstall the software if you want to keep your desktop clear, as this can protect your privacy or if you do not want others to see it on your desktop.
Are you still not convince that you should use this software? By now you should be, and if you're not, then just download the free software and you will quickly see how great it is to have nice looking women dance for you whenever you want. All you need to do is download VirtuaGirl, follow the instructions and then choose your favorite girls and before you know it, they will be performing for you right from your desktop. It is that easy, and don't forget if you like what you see, then you might want to take the next step and use the pay version. The chances are you will love what the paid version has to offer you, but for now, go ahead and download the free version.